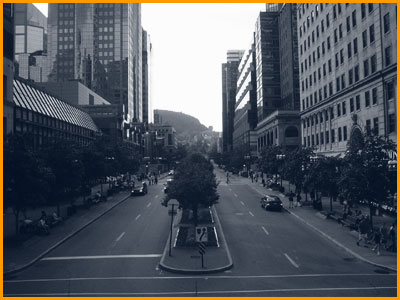 General Information

The Canadian island of Montreal is not only Canada's second largest city, it's the second largest French-speaking city in the world outside of France!

Although about two thirds of Montreal's population is of French ancestry, Francophones (French-speakers) account for over 80 percent of the population and have long asserted their French roots and pride. Quebec actively seeks special status from the Canadian government to preserve its unique cultural heritage. Three times the voters have put down referendums proposing Quebec's separation from Canada, but the margin of loss narrows each time, from a 60/40 split in 1980 to less than one percent difference (!) in 1995. So, the heated debate over Quebecois separatism continues.

"Discovered" in 1535 by French Explorer Jacques Cartier, who claimed the city for King Francois I of France, Montreal has long been a prosperous place. Montreal has long been a center of conflict as well, from the bloody battles with the first inhabitants, the St. Lawrence Iroquois, to warring between the British and the French. In the 18th century, Montreal became a vital port of call for ships traveling the St. Lawrence Seaway to the Great Lakes and for those heading toward the Atlantic. The island continues in that role today while also serving as a business and cultural center.


Today's Montreal reflects a certain globalism that sums up the enigmatic mix of ingredients that make this fascinating place what it is. Montreal sits below Mount Royal, the ancient volcano for which the city is named, along the Saint Lawrence Seaway. Equidistant from the coast of Europe and the western coast of Canada, the city is a mix of historic, Old World monuments and contemporary, New World sights; old churches and stone and brick buildings sit in the shadows of modern, metropolitan glass and steel structures.


An incredibly modern solution to an age-old problem can be seen in la ville souterraine, the Underground City. Created so residents wouldn't have to face the elements of Montreal's punishing sub-zero winter months (four to five months each year), the Underground Pedestrian Network is perhaps one of Montreal's most remarkable sights, not to mention one of the places to shop. Stretching across dozens of city blocks, with nearly 20 miles of walkways entirely below street level, you'll find exactly what the name says: an underground city. It's possible to browse the internationally recognized retail stores, have lunch, watch a movie, and enter a hotel without ever going outside!

Of course there is plenty to see above ground, and you won't be here during the brutal winter months, so be sure to come up from down under. Downtown you'll discover luxury hotels, outdoor cafes, museums and cultural neighborhoods, such as Chinatown, that can be explored on foot, bike, bus, or by horse and carriage. The famed Sainte-Catherine Street, connected to the underground malls, is the heart of commercial downtown, and calls out to shoppers to explore the shops, boutiques, and restaurants that have been making Montreal proud for over 100 years.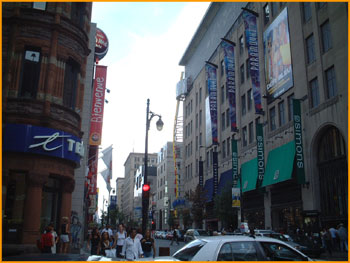 Visitors from all over Canada travel to Montreal for it's fantastic array of festivals. From the late spring Festival de Théâtre de Amériques, an international film festival to rival any in the world, to the mid-summer Festival International de Jazz de Montréal, two among many, the city celebrates the arts in a big way. The jazz festival hosts over 400 concerts, with at least three-quarters of them offered for free. For a different type of festival, the Parc Jean-Draper offers summer days and evenings full of family fun with Quebec's largest amusement park and the Montreal International Fireworks Competition. Nations from all over the world compete, providing pyrotechnic displays to light up the night's sky for over a month. July brings the Dragonboat Festival, with competitions and races. The festivities are conducted in French, English, and Chinese, reflecting the international flavor of Montreal. Check your calendar. If the festival dates correspond with your cruise schedule, take advantage of the opportunity to experience one of Montreal's cultural offerings.

Poutine Passion:

Be sure to sample poutine: fresh-cut French fries served up piping hot with cheese curds and rich, brown gravy. It's a positively delicious, gooey mess! Street vendors on nearly every corner sell it.

The Great Outdoors

For an outdoor education, visit some of Montreal's beautiful parks. The Montreal Botanical Garden, one of the largest in the world, contains, in addition to its more traditional areas, an informative new section, the First Nations Garden. It highlights the province's eleven Inuit and Amerindian groups and their connection to the plant world. Mount Royal Park, designed by the famous Frederick Law Olmstead who also designed New York City's Central Park, opened in 1876 and has provided over a century of visitors with a view of the natural beauty of Montreal. The park offers outdoor activities close to the heart of the city; it can easily be reached by car and the buses make regular runs to the park. Carefully maintained paths crisscross the park; walkers and cyclists can explore the area, observing nature in a "school without walls."


History

For an education in the history of Montreal, take the walking tour, offered in the summer months, of Old Montreal, which features some of North America's most impressive 17th, 18th, and 19th century buildings. The Notre-Dame Basilica is a must-see. Built in the 1820s, the Gothic Revival style of the interior with intricate woodcarving, paint, and gold leaf is almost as amazing as the stunning stained glass windows, sculptures, and paintings depicting Bible stories. Check out Saint-Paul Street, the main thoroughfare of Old Montreal for years. The street is cobbled and many of the buildings on each side have been restored to their original glory. Montreal's sizzling nightlife is accessible here, with jazz clubs adding characteristic zest to the historical neighborhood.

The old town is also home to a Parisian-style quarter where you will find croissants, French bread, and restaurants serving up French delicacies such as duck foie gras and caviar. Your culinary adventures need not be limited, however. Take your pick; across the cityscape you will find thousands of restaurants to choose from (there are over 5,000 in Montreal) serving various ethnic cuisines. You could actually take a round-the-world gastronomic tour without ever leaving the city!

It may come as no surprise to many that Montreal has so much to offer. After all, it's one of the most cosmopolitan areas in North America; it's like the Paris of the western hemisphere. It's true, Quebec is part French and part English, but it is 100 percent Canadian … at least for now.

Stay tuned.

Statistics

POPULATION

More than three million people make their home in Greater Montreal. This number makes up nearly half of the province of Quebec's population.

PORT

The Port of Montreal. Cruise ships dock at the city's Iberville Terminal on the St. Lawrence Seaway. The cruise port is within walking distance of many sights and attractions in Montreal.
CLIMATE

Late spring, summer, and early autumn are ideal for visiting Montreal, although July and August can be somewhat hot and humid.


LANGUAGE

French is the official language, but English is almost as common. There are language laws that require French text in commercial settings to be twice as large as the English (when the English is even allowed). Grab an English newspaper and amuse yourself with the reports of fines for improperly printed signs. The city's Anglophone press loves to report the minor violations that the French-speaking government nabs people for everyday!

When Poussez Comes to Shove:

A news story highlighting the language law controversy reported the case of a business that was fined $200 for a handwritten (in English) "Push" sign attached to a tough-to-open bathroom door.

CURRENCY

The Canadian dollar.

Places to visit in montreal (coming soon)
List of downtown hotels (coming soon)

Average Temperatures:
January F -10/15 C --15/-6
April F 34/52 C 1/11
July F 59/79 C 15/26
October F 39/55 C 2/11
Currency:
Legal tender is the Canadian dollar, which divides into 100 cents. Bills come in 2, 5, 10, 20,
50 and 100-dollar denominations; coins in use are 1, 5, 10 and 25 cents and 1 and 2 dollars.
Banks & ATM:
Banks are generally open from 10 a.m. to 4 p.m., Monday to Friday. An extensive network of
automatic banking machines is also accessible at all times.
Tipping:
Tips in hotels and restaurants range normally between 10% to 15%, excluding tax. Cab drivers,
hairdressers and bellhops are tipped at the customer's discretion.
Store Hours:
Stores open from 9:30 a.m to 9:00 p.m. Monday to Friday and from 9:00 a.m. to 5:00 p.m.
Saturday and from noon to 5:00 p.m. Sundays. Some stores close all Sunday and after 6 p.m.
during the week.
Emergencies and Medical Services:
Make sure that your insurance covers you abroad before you go on vacation. In an emergency
call ' 911' within the Montreal urban community to reach a doctor, police or fire department.
Electricity:
Montreal, like everywhere else in North America, uses 110-volt, 60-cycle AC electric power.
Visitors with otther types of electrical outlets must bring an adaptor.
Metric System:
In 1980 Montreal (and all of Canada) traded in pounds and inches for the metric system. Gas is
sold by the litre. There are 4.5 litres in one Canadian gallon and 3.8 litres in one American
gallon. Time is generally indicated using the 24-hour system: 8 h means 8 a.m. and 20 h means
8 p.m.